If you look hard, there are outposts where Shitlords and Realtalkers feel free to speak unassailable truths. One reader passed along this quote from an Israeli politician who was offering an explanation for Europe's open borders madness and supine welcoming of their rapefugee replacements.
Israeli politician agrees with your observations on the women of Europe + Migrants.

"Western Europe is kneeling and inviting the noble Muslim savage to rape it," wrote the maverick politician on his Facebook page. "What is the meaning of this phenomenon? Were there only German women at that train station in Cologne? Where were the men?"

The Muslims who leave their home countries seek Germany, Sweden and Finland not just for financial reasons, he speculated. "There is something much deeper at play here. Western Europe is actually the most secular place in the world. Most of humanity believes in God – the US, too, is mostly populated by believers. Western Europe is an island of atheism; the situation there is reversed.

"This is a culture that has removed God from its consciousness. It took God out of the game and locked Him up in museums," Feiglin theorized. "The pressure of the Allahu Akbar culture bursts naturally into the irreligious vacuum – it is a matter of physics, really. Of intercontinental maleness and femaleness."

"Generations of denial of God have engendered a craving for authority and meaning," the philosopher-politician explained. "The police does not attempt to prevent the rape just as it did not attempt to prevent Kristallnacht, because in truth, it is desired. The battered woman syndrome, the subconscious, the political correctness of Merkel and those who invite in the immigrants, actually desire it. […]

"The circle closes with crazy speed," Feiglin observed. "Women's liberation disappears. The State will not protect you – get used to it. Your Godless religion has evaporated. Find yourself a man – a Muslim one, of course – to protect you. There is no other masculinity."
"The battered woman syndrome" is just another way of politely saying "generic female sexual nature", because all women, to lesser or greater degree, desire their submission to a powerful and dominant alpha male. And the dominant alpha male needn't be manifest through the individual man; the strict orthodoxies of patriarchal religions like Islam also fill the role of authority that people, but particularly women, deeply and profoundly crave, beyond even conscious apprehension.
This is an important topic, because it befuddles not just equalist leftoids (who were never going to be un-befuddled) but also race-aware white knights who despite their willingness to grapple with many ugly truths that frighten mass media and the culture gatekeepers, nonetheless exhibit a strong allergy to thinking clearly when the subject is (White) women and their peculiar habits of mind. (These alt-white knights also co-opt a rhetorical crutch preferred by the shitlibs they hate: glib and snarky ad hominem against those who do speak truthfully about female nature.)
Men invade, women invite. The essential sex distinction is the male disposition to conquer and acquire power and the female disposition to accede and acquire the charity of the powerful. All real world evidence points to these diverging male and female essences. It would be funny if it weren't dead serious that every single global crisis contradicts the feminist (and lickspittle manlet) worldview.
Today, a Swedish woman was stabbed to death by a Muslim refugee. Add her body to the running count of White female victims of rapefugee runaway entitlement. It has been three weeks since the Cologne mass sexual assaults on German women at the hands (and groins) of Middle Eastern men. It has been two months since the Paris attacks when Muslims killed hundreds of White Frenchmen and -women.
Dwell on recent history. Now consider this: two days ago, a German poll revealed glaring sex differences in male and female support for various German political parties. "Frauen" are women. The "AfD" is the anti-immigration party.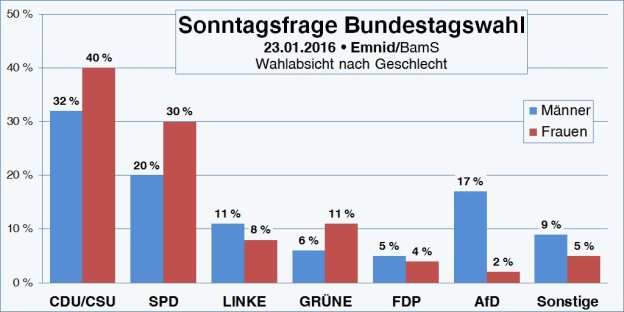 I don't think you'll see anything more shocking than this snapshot of the German female id. It calls to mind that Plath pith, "Every woman adores a fascist". What'll it take to convince White women that it's in their best interest to shut the borders to hordes of nonWhite orcs?
"Best interest"? Maybe that's the problem. Women's best interest isn't necessarily aligned with their men's best interest. That Israeli politician quoted above is onto something dark and ominous when he accuses the West of assuming the role of intercontinental femaleness — the psychological condition responsible for civilizational ennui and exhaustion and prostrate submission to invading foreigners. Western men have become their women — gelded freaks who dress in mini-skirts to "support" victims of the Cologne sex attacks — and into that masculinity void unapologetically patriarchal Muslim migrants rush to provide that "other masculinity" which animates the hindbrains, and the ginewaves, of so many young fertile WHITE women.
Because who is going to protect these White women? White men in mini-skirts? It is to laugh. And though many women will claim otherwise to reporters holding microphones and even to themselves when uncomfortably alone with their thoughts, their actions expose a different motivation.
I call this sex-disparate phenomenon "The Feminine Mistake". It was a mistake to hand to women inordinate power – at 51% of the population, women hold the levers in democratic societies – over public policy and the nation's constitution. Women are who they are; they can't help themselves when they vote for equalist leftoid nation-destroyers.
If the White West is to save itself from its worst instincts and sentiments, it's going to take something that most cucks, manginas, and male feminists are loath, or scared, to do: tell women to step aside, because they are royally fucking up the place.
[crypto-donation-box]