#Nigeria, Lagos: The true love! BBW finally meets her dream man! He says, "Her stature is kind of bigger than I expected, and she looks older than the pictures." HAHA! pic.twitter.com/mqKYfcAn8P
— Onlinemagazin (@OnlineMagazin) October 25, 2018
From CH commenter Bucky,
That can be said for almost every POF profile
FACT: most mudsharks look like this whale. Old, blubbery, and desperate.
FACT: despite the above fact, our 30 year old Nigerian can STILL DO BETTER (and he knows it)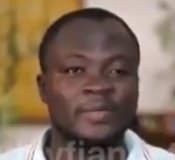 "I'm happy. I'm overwhelmed."
Can we make #DisappointedNigerian a meme?
From commenter clarence boddiker,
90 day fiance is the basic cable television warehouse of the most beta cringeworthy soys out there.

There's a new trend now, highlighted on the show, dudes who are trying to get 3rd world 4's to marry them even though neither one speaks the other's language. So, this dude travels into South America to marry some 20 year old meh chick and their married days and engagement are spent speaking into an iphone's translator feature.
So we've got obese catladies marrying disappointed dindus who will love them until they get the green card, and we've got soyboy betas traveling to jungly paradises to meet schwarzenegger's maids and coo at each other through iphone translators.
A dystopian prophet like Houllebecq could not write stranger fiction if he tried.
The post-modren West is the story of deeply ugly people, inside and out, trying to escape the reality and demands of the sexual market. I have coined it….The Fuggernaut. And it will consume us if we don't beat it back to the abyss from where it was belched.
[crypto-donation-box]