This post is also available in:
German
There is a relationship between a woman's marriageability and her "down-to-fuckability" (shortened: DTFability). It's quite robust and replicable.
Down-to-fuckability is fancy scientific jargon for the impression a woman makes that she is eager and ready for sex, and that bedding her would not be much of a challenge. DTFability also suggests an openness to sexual experimentation and to trysts in public locations.
DTFability is similar to, but not the same as, sluttiness. For a woman to qualify as a slut, she has to have racked up a higher-than-average cock count. A better synonym for DTFability would be skankitude, which embodies the stylistic and behavioral qualities of sluttiness but not necessarily the high cock count that is the trademark of the slut.
A woman who is commonly considered by men to be "down to fuck" is a sexpot identified by her skimpy clothes, whore hoop earrings, tattoos, slut eye and other quirks of appearance, as well as by her seductive flirtations and aggressively sexual demeanor. Masculinized women with the telltale "manjaw" and careerist ambitions are representative of the DTF woman; they don't play coy and they love giving head.
Marriageability refers to women who are "marriage material". These women are the polar opposite of down-to-fuckable women. A marriageable woman, by her appearance, style and demeanor, implies a low risk of unfaithfulness and a high disposition to romantic loyalty, and following from these implications she likely possesses a pretty good maternal instinct as well. These things matter to men who are considering settling down and starting a family with "the right woman". A faithful, loving, affectionate woman is a woman who is unlikely to frivorce or cuckold a man.
Looks-wise, marriageable and down-to-fuckable women aren't all that different from each other. Beauties can be found in both groups, although DTF girls tend to a "hard" look and a psychotic thousand-cock stare, while marriageable girls tend to look softer, kinder and, less encouragingly, diffident. DTF girls inspire horniness in men; marriageable girls inspire romance in men.
Horniness and romantic investment aren't positively correlated. Their relation is haphazard at best. Yes, men generally want to spend lots of time with women who make them horny, but women who inspire nothing BUT horniness exert a relaxation effect on men's more subtle sexual urge: the urge to protect and provide. In scientific terms, a DTF girl is a "fucknchuck", while a marriageable girl is a "waitnmasturbate" (i.e., men are willing to wait for the marriageable girl to open up sexually to them, while they endure the wait by masturbating).
And that explains the inherent tension in men when choosing between marriageable and DTFable girls. Men love the sexy, alluring ingenue with the come-hither eyes and Mariana Trench cleavage, but they don't so much love her infidelity risk and her reckless, indiscriminate coquetry. And men also love the coy, demure, innocent blushing beauty with the promise of a hymen and a chaste sensibility, but they don't so much love her prudery, sexual timidity and loose-fitting cable-knit sweaters.
So men looking to the future with a woman that goes further than a one-night-stand or a three month fling must find a balance between the two female genera. A woman who is too sexy is a divorce and cheating risk. A woman who is too prudish is a bed death risk, comfortable with weeks of sexlessness and having an aversion to blowjobs (which when she gives them can result in her face twisting into a rictus of disgust; quite the mood killer with the lights on).
Which brings us to:
The Marriageability-DTFability Relationship Curve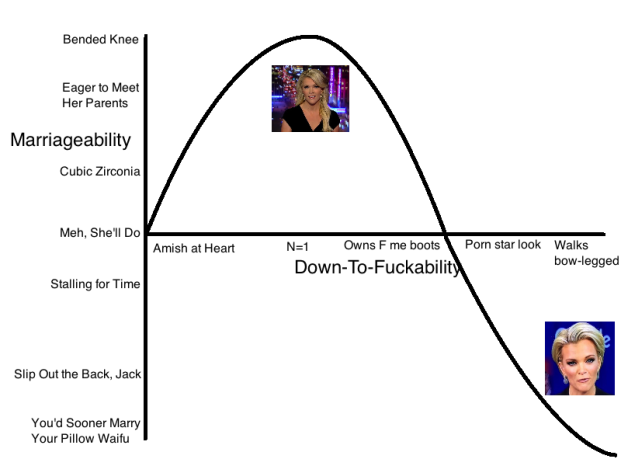 This curve captures the essence of the subconscious decision-making process that goes on in the minds of men judging women for their marriageability. A High Marriageability woman is NOT the most prudish and faithful; such a woman will dutifully bear and raise your children, but she will not dutifully bare herself and raise your churro. A very Low DTFability woman earns a "meh" on the marriageability question.
Peak Marriageability occurs at the inflection point where a woman is still relatively chaste but has a nascent talent for projecting a hungry sexuality in your general direction. This is the Sweet Spot (to complement the Wet Spot). A man would feel comfortable leaving a Sweet Spot wife for stretches at a time, and simultaneously would never dread having to hear from her the snapper-sutured lie "I have a headache".
After this point, the more DTFable a woman becomes — which, in practice, means the more a man will push hard for first date sex with her — the less marriageable she is. A woman with a porn star look and Megyno Kelly's aggrocunt short haircut will arouse a desire to rush her home and pile drive her through the mattress. What she won't do is make any quality man with sexual market options reach for his wallet to buy her a fancy dinner, let alone a diamond engagement ring.
A smart woman knows where this balance lies, and works it to her advantage when trying to snag that perfect man into marriage. If there are glowing reviews to be written for the High DTFability girl, it's that she isn't satisfied with missionary alone, she gets down to business without a lot of insufferable wavering, and if you have even a lick of experience with women you'll know how to spot her cruel wantonness and avoid serious romantic entanglements that could cost you your sanity and sense of self-worth, if it was precarious already.
[crypto-donation-box]