Thanks to the eagle eye of reader W Baker, a second herb has been discovered in the photo of the herb with satchel.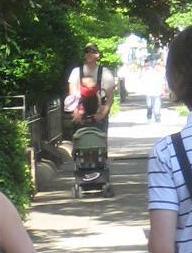 Unbelievable. Two herbs frolicking in the wild! What fortune. I didn't even see the second herb when I snapped this shot. It's like finding out your antique ceramic cat is hiding secret code from the Spanish-American War engraved on its underside.
As you can tell, the second herb is the subspecies "de-balled family man" herb. He is a prime specimen of his taxonomy. Just look at his firm two-hand grip of the stroller handle, the head held high proud of his emasculation, the papoose slung insouciantly across his chest like a beacon to all other herbs that, yes, here be safe haven for our kind. Stroller, baby, frontal papoose… is that a pink blankie over his elbow?… my god, it's the perfect storm of herbliness. A magnificent beast! What could possibly make this better except for the not insignificant odds that, since this shot was taken in a yuppie habitat, our herb may be the rare breed known as the "two daddies" herb. This find is almost as good as the Zapruder footage of the paunchy papoosed herb holding mall shopping bags while his annoying wife shouted instructions at him.
I should send this pic to National Geographic.
[crypto-donation-box]