I was walking down the street when I crossed paths with a woman in her mid-30s pushing a stroller with tinted mesh over the top to protect her child from the sun and bugs. Here's something you don't see everyday in the city, I thought. A smiling mother and her baby. As she passed, I looked in the stroller… to see a toy dog staring back at me, oblivious to its elevated status as a newly minted member of homo sapiens.
I didn't have my camera with me to record this beautiful metaphor of barren yuppie womb, though it looked like this: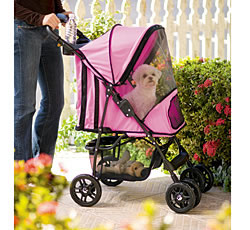 I believe this is one of the signs of the apocalypse.
[crypto-donation-box]