This post is also available in:
Englisch
A reader with an urgent family emergency has turned to the Chateau for help.
I have been reading your site for many years now and thank you for all of the wisdom you have shared. Your blog has improved my life in many ways, and I humbly ask your advice now to convince my brother that he is about to make a terrible mistake.

My brother is the pride of the family – went to a top school undergrad, graduated med school last year, and is now on his way to becoming a surgeon. He is a well-adjusted, mature man who has had a couple of long term relationships in the past and possesses above average intellect, physical, and social skills.

For the past 6 months he has been dating an unemployed divorcee who is 8 years older (he's 28, she's 36). This summer he will be moving across the country for his next rotation and they have decided that she will also move and live together with him. She has no social network in the region and even if she finds a job will be relying almost entirely on him financially, emotionally, etc. Not surprisingly she has been pushing him for a ring and a baby, and he seems to be happily going along with this.

My parents and extended family are distraught. We have all tried to reason with him but to no avail. You and your esteemed commentators can all see the train wreck that will occur if my cousin decides to marry and start a family with this woman.

My question to you is this: how can I talk him out of it?

Nervously Poolside,
Dr. No
This reader's brother needs an intervention. A strong, powergut propelled, three pats on the back intervention. The best teachable moments are those which sock the nascent quisling in the face with a blistering infographic: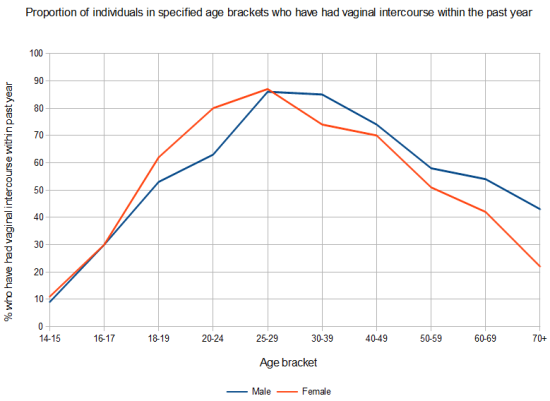 The graph is via GLPiggy. As you can see, more women have sex before age 25, but after that the dynamic flips and it's men who enjoy the edge in sexual pleasure. The why is simple: women are most desirable when young. Men are most desirable when older, and continue staying desirable well into middle age. The underlying why is even simpler: Female attractiveness is almost entirely a function of their physical beauty. Male attractiveness is a function of multiple causes, including status, power, charm, looks and social dominance.
This is CH 101, aka Life 101, aka Feminist Soul Implosion 101.
So tell your brother it makes no sense to marry a woman eight years older than himself when he has the SMV goods RIGHT NOW to land a hotter, tighter, younger babe without divorce baggage, said baggage which itself is strong evidence she will divorce again. And on top of that, his SMV will only increase for another ten, perhaps twenty years, while hers, if she is the typical woman following the usual senescence track, will have a date with the wall of sexual expiration just about the time his appeal is maxing out.
That's a recipe for marital failure. It makes no sense for him to hitch his cart to this gimp horse, unless….
she's hot.
I mean, balls tingling, cock leaping hot.
You left this out of your description of her. Be honest, how hot is she? A hard 10? And not just for her age? Because if that's the case, (however unlikely), many would find it difficult to dissuade him from experiencing the kind of glorious transcendental passion that most men can only crave from the sidelines of their gloomy masturbatoria.
You see, a man falls in love with a woman's beauty. He does not fall in love with her smarts, her job, her credentials, her family connections, her employability, her future time orientation, or her ability to stand against the patriarchy or avoid the pitfalls of divorce.
Her beauty inspires his devotion, his lust, his love, his tenderness, his protectiveness, his delirium. Once inspired, he begins the journey of discovering all those other little things about her that seem now to him so powerfully alluring. Her beauty is the buttering ram that slides open doors to aspects of her subtler being that are joyously and post hoc-ally embraced by him as motivating reasons for his ardor.
Save this man, yes.
But save him from what? Himself? Or your family's concern with appearances?
I ask with all sincerity. Because you need to be sure that you will act in your brother's best interest. If he's a man of solid self-possession who happens to be truly, deeply, crazily in love, leave him be. If he's a beta who is clinging to what he imagines is a lifeline from a fate of grinding loneliness, then by all means get in his face.
Show him this blog. Let him sponge up the message that is both necessarily hateful and nourishing.
Slyly introduce finer specimens of femaledom into his life. Let him smell their intoxicating aroma.
Employ the carrot and the stick, the coax and the shame. In time, if he is not completely lost to the forces of self-doubt so preciously cultivated by our feminism glorified society, he will find his footing.
Preferably in the bed of a 22 year old stripper.
UPDATE
An astute commenter has noted that the reader requesting advice referred to the man in question as his brother, and then as his cousin. This may indeed be a troll email.
Nevertheless, the message stands. Trolls can often serve as useful springboards to discuss larger matters which do impact the lives of many men.
UPDATE 2
From original emailer,
My sincere gratitude for your post.

The cousin is a typo, he is my brother and this is a very real situation.

The woman in question is not hot at all, though not ugly – clearly post wall looking to latch on to a provider. 5 at best.

We are acting in his best interest as we can all see what will happen a few years down the road as your readers have already noted. He is more the latter than the former in terms of self possession vs beta – our working theory is that he fell headlong into this because he was in a new city working brutal hours without close friends around.

I am staging an intervention imminently and will keep you posted. The red pill will be hard for him to swallow but its better to go down swinging.
Just inform him that there are hot 21 year old women he can meet just about anywhere who would swoon for his surgeon swagger. Once he knows that, tell him he needs game. Direct him to the resources at this blog. Rudimentary game is all it should take for a whole world of young, exquisite pussy to blossom before his eyes. It sounds like the beta is strong in this fellow, so his shift in attitude from a scarcity mentality to an abundance mentality will need to be swift and sure. Good news: the shift will fully reflect his real opportunity.
[crypto-donation-box]