The Supreme Court's resident witch is about to kick the kiddush cup, so names of replacements are in the news. One of them is Amy Barrett.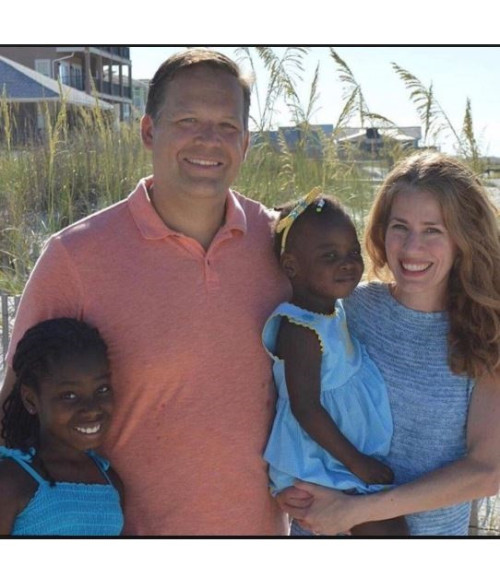 I'm not sure which is the bigger deal-killer, Barrett's krazykunt eyes, or her reckless virtue signaling.
From Heather,
I can finally confirm my suspicions about Barrett's Catholicism and gloat that I was right. lol

She's a member of 'People of Praise'–a Charismatic group. This explains everything, including the Haitian adoptions.

In no way can you trust her to rationally, fairly, and unconditionally apply and interpret civil and natural law for mankind when her relationship with God is irrational, emotivistic, and conditional. She is a lefty on everything but abortion.
Dear God, I hope Trump reads this.
***
"Courage Goals"
Truly courageous: pulling this stunt in Riyadh. Or Rotherham.
***
The White bad guy/brown hero trope is pretty much de n!gueur these days.
Add Proctor & Gamble to your list of anti-White companies to boycott. They make a lot of center aisle shit for sale in supermarkets, so avoiding their products will benefit your health. Their recent ad for Gillette razors comes with the byline "shave away your toxic masculinity". (They should've went with "tonic masculinity".)
Discover the P&G brands for you to boycott:
You're probably not at all wondering who was behind this anti-White, anti-male Gillette ad….
***
There has been a blackout of the ongoing Yellow Vest protests in France by our chaimstream media news (not surprising since the protests are anti-globalism and the protestors are White Frenchmen), so you may not know that Maricon has ordered his mercenaries to fire tear gas canisters FROM HELICOPTERS into groups of protestors.
I've never seen anything like this before in an EU member state.#Macron is using HELICOPTERS to fire tear gas cannisters against the #GiletsJaunes protesters?

Will the #EuropeanCommission finally protest or are they to busy with trying to put sanctions on #Poland & #Hungary? pic.twitter.com/sXpV2F7YWS

— BasedPoland (@BasedPoland) January 13, 2019
From a reader,
Grenades next, napalm next, cluster bombs next? Whatever it takes. It's just white people. Imagine world outrage if they were doing this to dark skinned types. Nothing at all about this MSM in US. Prelude to what's planned for white people in US.
Prelude is exactly right. This is an instruction manual for our Deep State.
As a thought experiment, imagine the fucking HUE AND CRY from the media if Trump ordered tear gas thrown from helicopters at BLM or antifa protestors.
***
"Hamilton" is the Obama of Broadway musicals: People of Color and Immigrants unite to fight white racism by defending Wall Street.

Democratic Treasury Secretaries like Robert Rubin, Tim Geithner, and Jack Lew LOVE "Hamilton."https://t.co/4dtWuqpdF3 https://t.co/uFlfuLA4ZT

— Steve Sailer (@Steve_Sailer) January 15, 2019
From a reader,
[Hamilton the POC Play] also gives shame-infested leftists permission to consume history because it absolves the audience of sin by wrapping the story in black skins.

this belief that just by being black someone can absolve you of a kind of sin you have just for not being black is one of the more vicious aspects of…n3gr0latry.
This really nails it. I know some shitlibs who saw Hamilton (when they got tix it was like they had won the lottery), and they couldn't stop talking about "all the history in the play that you never hear about in schools".
Wrap it in black,
It's shitlib crack.
***
Trump was an experiment in unobstructed democracy. By unobstructed, I mean the media, the Uniparty, the Deep State, academia, entertainment, the MIC, and Big Tech lost just enough power to patrol minds that the people were able to break the stranglehold of "preapproved" candidates and truly elect a rebel from outside the system.
This successful flexing of muscle by the peons was too much for the Perfidious Establishment to bear, and they have since been slow rolling a coup to oust Trump from office, and they may yet succeed at the goal of invalidating the will of the American people. But praise kek, their coup has yet to hit pay dirt, and their subtly-shifting narrative keeps falling apart. If they win, and the Trump Experiment is nullified, we will never have another Trump, not without war. They may still lose if enough patriots embedded in the Deep State Machine summon the courage to expose the seditionists at the top.
[crypto-donation-box]