This post is also available in:
German
Get ready for a visual gut punch: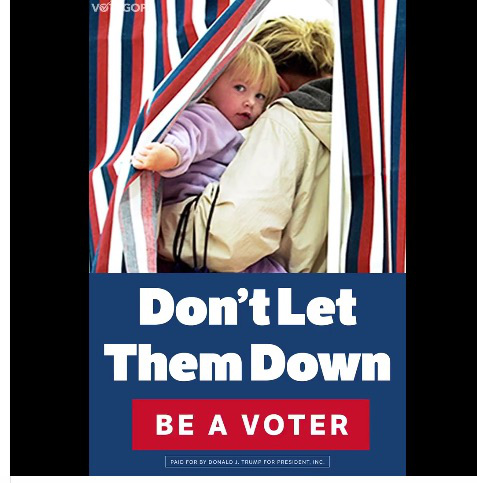 Via Shrill, who writes,
This is the best political ad I've seen in a long time. Absolutely implicit.

A mother carrying a child is a rich image, one that's imprinted not when motherhood starts but when girlhood starts; very little girls want to hold babies, almost as soon as they stop being babies themselves, and when they're trusted to do so unsupervised (without the fear that they'll drop the kid ("let them down")) it's a big deal. It's a huge self-identity thing for females in general and mothers in particular (because of the emotional bond between mother and child).*

She's wearing a windbreaker, which is a very white item of clothing. There's nothing about it to make it stylish, but it also lacks the kind of branding or logos that would make it look prole. She and the kid are blondes, with blonde hair being a sort of lightning rod both for whites and for people who hate us. the red white and blue partition evokes patriotism, privacy (your ballot is secret), and tradition (these are currently only used in small towns, modern polling locations create privacy by spreading people out, rather than covering them up, which is a tangent rich in metaphor but let's not).

*This is another illustration of the fatuity of transsexual men's claims that they "feel like girls on the inside." They don't have the maternal instinct, they have the fashion instinct, which, of the two, is done somewhat more for their benefit. They're saying to real women "the vision of you and your kind that I've created to inflame my lusts is the totality of your existence, independent of what you've actually felt in your life."
I'll add that the image is potent for another reason: it evokes primal race consciousness simultaneously through the emotional pathways of perceived threat and future promise. The child looks behind, her face a mix of perplexity and fear, at the dusky horde invasion and corrupt rulers; is she holding the curtain open for the viewer to peer at the gathering danger with her, or closing it in an act of defiance against the approaching darkness?
The mother is a guardian not only of her child, but of what her child represents: a lineage. We see only the mother's shielding arm, her face hidden and focused on a momentous decision. She is the promise of a future. For her child. For her family. For her race. For her nation. The ad implores her, and all mothers like her: don't let them down. You, White woman, aren't voting for yourself. You're voting for your children. Powerful. Provocative. And proof that the passion and the beauty and the art and the timeless truths are with the Trump revolution.
[crypto-donation-box]