This post is also available in:
German
Donald Trump calls the esteemed, conspicuously White, Senator from Massachusetts, Elizabeth Warren, "goofy" and "Pocahontas", (I prefer the term of art "Fauxcahontas"), for her Deformative Action system-gaming mischief of claiming American Indian blood to land a plum job at Harvard. So she's just another corrupt White leftoid leveraging anti-White virtue signaling for her pecuniary benefit.
She's in the news again for staging a social media-ready, attention whoring "sit-in" in Congress to protest lack of Congressional action on stripping the 2nd Amendment of all meaning. She's a gun control nut (aka "take all means of power from law-abiding White men" nut), among other nuttiness, and looking at photos of her and reading her Twats, the "goofy" label is apt.
However, I would go farther than Trump. Rabbit Warren is no mere goofball. She's a sociopath. A malevolent modern era witch burner. A fucking crazy-eyed SJW psycho carrying a viral load of civilizational death. Evidence: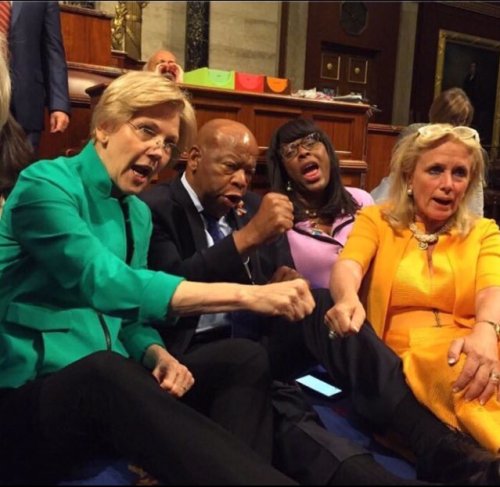 lol the losers in the center look like they should be picking gnats off each other https://t.co/nwXucWtjRH

— Bumbling American (@BumblingUSA) June 22, 2016
Those soulless, fanatic eyes. Let's zoom in for a closer inspection.
Unmistakable. We've seen those eyes thousands of times. It's the Charles Manson-esque look of every high-strung, SJW zealot who was ever triggered into a fire and brimstone sermon about the evils of White privilege.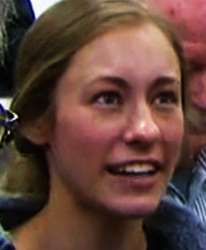 Here's the deal on these degenerate equalist freaks: once you understand that their religion is race creationism — and that any attacks on their religious belief using incontrovertible evidence to the contrary will be met with the same ear-plugging, gum-flapping storm of rage and denial and psychological projection that one will often see manifest when the strict adherents of any traditional religion are attacked — then you'll know why sanctimoniously preaching about "gun control" is a big part of their liturgy.
The gun control (((debate))) is a classic case of negative transference. American Whites have a gun violence rate about on par with White Europe. The Rabbit Warrens know deep in their schoolmarmy, sooty hearts that blacks and Muslim migrants are disproportionate vectors of gun violence (either drive-by or mass-shooting), but they can't abide that percolating reality. It clashes with their entire worldview. To own up to a racial reality would be to disavow their most cherished beliefs. It would be like an Evangelical renouncing Jesus or a Jew accepting Jesus. Sheer heresy.
And they can't have that. So they transfer their cognitively demanding bad feelings about black and Muslim violence onto Whites, and most ludicrously onto lawful White men in particular, to help ease the pain of self-doubting waywardness from their religion. "Bad White man! Bad guns that White men love so much! Ahh, I'm a good Race Creationist again. I'll still go to gated community heaven, where all signals are virtuous and all self-righteousness at the expense of BadWhites rewarded with a Godly smirk of knowingness."
Trump, of course, is the hungry wolf who found the rabbit warren, and is busy tearing apart rabbit flesh as tufts of bloody fur fly in every direction. That's why Elizabeth Warren looks like she escaped the funny farm recently. Trump knows, like we DGAFians of the shiv-right know, that there's no reasoning with religious fanatics. There's only mockery, derision, ostracism, and if things get bad enough, cleansing cruelty.
[crypto-donation-box]