This post is also available in:
Englisch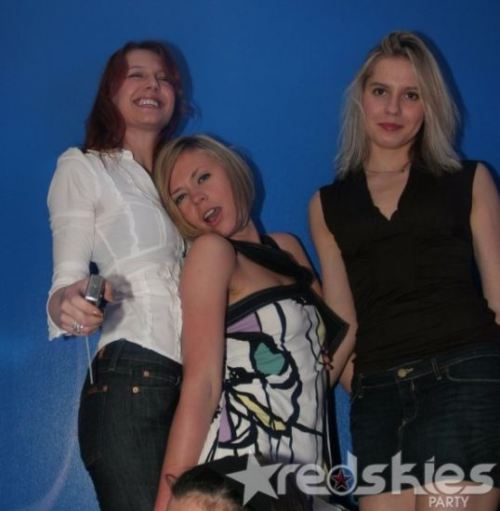 Im Gegensatz zur letzten Ausgabe von Freundin oder Flittchen? befindet sich diese auf einem niedrigeren Schwierigkeitsgrad. Ignoriere ihre Sex And The City-Imitation und konzentriere dich auf das Zusammenspiel und die Körpersprache dieser erwachsenen Mädchen.
Die Frau auf der rechten Seite ist offensichtliches Material für eine Freundin. Lass uns die Art und Weise zählen, wie sie eine treue und wenig dramatische Freundin abgeben würde – ein zurückhaltendes Lächeln mit geschlossenen Lippen, ein bescheidenes Kleid (der Rock ist kurz, aber das wird durch das Fehlen jegliches Dekolletés ausgeglichen), minimales Make-up und Accessoires (ist das eine Halskette oder eine Haarsträhne?), Arme nahe am Körper, keine sexuelle Verfügbarkeit wie hervorstehende Brüste oder gewölbter unterer Rücken. Diese Frau sieht aus, als wäre sie geboren, um den Gang entlang zu schreiten. Sie kann tatsächlich bereits verheiratet sein.
Das mittlere Mädchen ist total verrückt. Nicht irgendein Flittchen, sondern ein wilder, verrückter, heißer, selbstzerstörerischer Sex in der Öffentlichkeit, öffne die Kondome und drück die Aufnahmetaste. Sicher, ihr Kleid ist eine Toga, die leicht mit einer Bewegung abgerissen werden kann, ihre Augen sind im Schlafmodus, lange bevor sie ins Schlafzimmer kommt und ihr Mund ist offen in Form eines Schwanzes, aber was ihren Status wirklich ausmacht, ist der Schal um ihren Hals, der darauf wartet, gepackt und gezogen zu werden, um einen angenehmen Erstickungseffekt zu erzielen. Sie hat eindeutig Eisprung und braucht das harte Ficken eines dominanten Alpha-Mannes. Sie ist so geil, dass sie ihren Arsch in den imaginären Strap-On ihrer Freundin steckt.
Das Strap-On-Mädchen auf der linken Seite ist eine potenzielle Freundin (beachte, dass sie die Verantwortung für die Kamera trägt), aber nach ihrem bösen Lächeln, das beide Zahnreihen und ihren sichtbaren schwarzen BH unter ihrer Bluse zeigt, muss sie gebrochen und gezähmt werden wie ein ruckelnder Bronco bevor sie als eine gute Freundin angesehen werden kann. Sie sieht aus, als hätte sie Männer lebendig gefressen und eine Spur gebrochener Herzen und Hodensäcke hinterlassen. Ich spüre eine manipulative Schlampe. Dies ist genau die Art von Frau, die mit ihrem Ego und Scheisstests für den Sport führt. Sie bittet praktisch darum, dass ein würdiger Mann wie ich angesichts ihrer Realität spritzt und sie zu einer leise wimmernden, unterwürfigen Liebessklavin macht, die bereit ist, auf Knopfdruck auf die Knie zu fallen.
Einmal gebrochen, genieße ihre völlige Hingabe. Sie wird einen Schrein für deinen Schwanz bauen.
*schnappen*.
[crypto-donation-box]